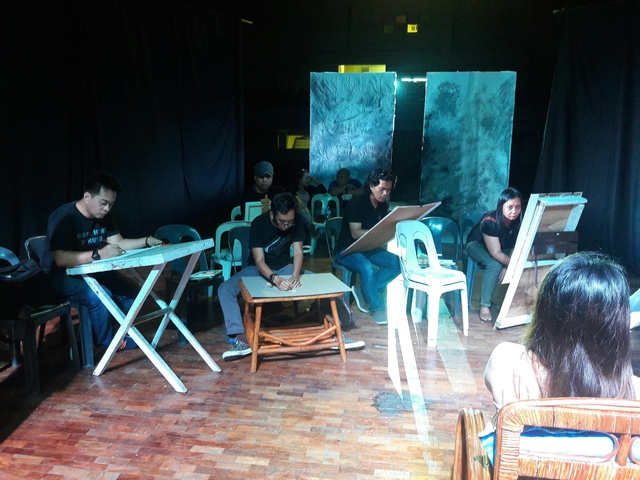 This article first appeared in Rappler
MANILA, Philippines – "A friend of a friend," was how visual artist Boyet de Mesa described his closest encounter with a person living with HIV – knowing someone with this condition only through a friend.
"At kung ano lang nababasa ko sa news, na alam ko ang daming infected (And from what I read in the news that so many are infected)," he said.
But his next chance meeting was more intimate – a face-to-face encounter with an HIV-positive woman who was the subject of an on-the-spot painting advocacy session early this month.
On the first Saturday of March, De Mesa and 6 of his fellow visual artists who belong to the group, Panday Pira or Pandayan ng Kulturang Pilipino sat down and worked on their rendering of Janina, 21, six months pregnant and diagnosed positive in November last year during a prenatal check-up.
The activity, called "Faces," was a collaboration of the AIDS Society of the Philippines (ASP), the country's oldest professional organization on HIV and AIDS; the Insular Southeast Asian Network-Humanist Institute for Cooperation with Developing Countries (ISEAN Hivos), which addresses sectors vulnerable to HIV infection in South and East Asia; and the Polytechnic University of the Philippines (PUP) University Center for Culture and the Arts, which hosted the session.
'Janina'
The sitting, a first for both Janina and the artists, also became their learning platform about HIV and AIDS. Janina responded to questions about her condition and her life, as the artists interacted with her in between sketching and brush strokes.
She broke down at the start of the session, when she recalled how she received her positive HIV test result. This hushed the artists for minutes. Janina was on the second year of a relationship with a man ten years older than her and they were breaking up when she found out she was pregnant.
"There were a few times I went for medical checkup because I felt itchy down there every time we had sexual contact," she said. She asked her boyfriend to seek medical help too, because she thought he might have an infection.
"Ayaw niya magpa-checkup. Nalaman ko may mga iba din siyang ka-sex na babae. Bago pa 'yun, may nakarelasyon siyang bakla (He refused medical checkup. I also learned that he was having sex with other women. Before that, he had a relationship with a gay man)," she said, adding that her partner used a condom only twice during the course of their relationship.
By this time, the artists, who empathized with Janina's emotional shifts, loosened up. "Guwapo ba siya? Nasaan siya ngayon? Kuyugin natin (Is he handsome? Where is he now? Let's beat him up)," they said one after the other.
Rica Reyes-dela Cruz, the lone female visual artist in the group, said her first encounter with a person living with HIV was helpful and an eye-opener. "Ang tapang niya (She's courageous), having gone through all that. I admire her," she said.
One of the male artists, pondering the reality of male-female relationships mirrored by Janina's story, said, "Ang hirap din ng sitwasyon ng mga babae pagka ganyan; lugi sila (Females are on the losing end in a situation like this)."
After finishing a course in tourism, Janina was set for employment in the Middle East, but all that vanished with her condition, as most countries in that region require HIV tests on entering migrant workers and reject those who are infected.
She draws strength from her sister, who was the first to know about her condition, and her other siblings. They spared their parents from this information to avoid further strain.
"I have so many dreams. I have so many plans," she said. She set aside all these to remain in the Philippines to raise her child.
Females more vulnerable
Health experts consider females as more vulnerable to HIV infection than males because of their body mass areas that make them "receivers" of the AIDS virus contained in the semen of an infected male. Receiving the virus from the exchange of body fluids during the sexual act puts them at high risk. Some girls and women know the importance of using condoms, but negotiating for condom use with their partners remains a challenge for them. (READ: 'The HIV generation': 25 people get infected in PH daily)
The Department of Health said many women who have HIV are those who are faithful to their husbands and male partners, and think they are faithful to them too, so they do not use condoms, thinking they are safe. (READ: INFOGRAPHIC: How is HIV transmitted?)
The department said mother-to-child transmission of HIV can occur when an HIV-positive mother passes the virus to her baby during pregnancy, labor, delivery and breastfeeding. HIV-infected women carry their burden further by caring for a similarly infected infant despite their own infection.
First in Series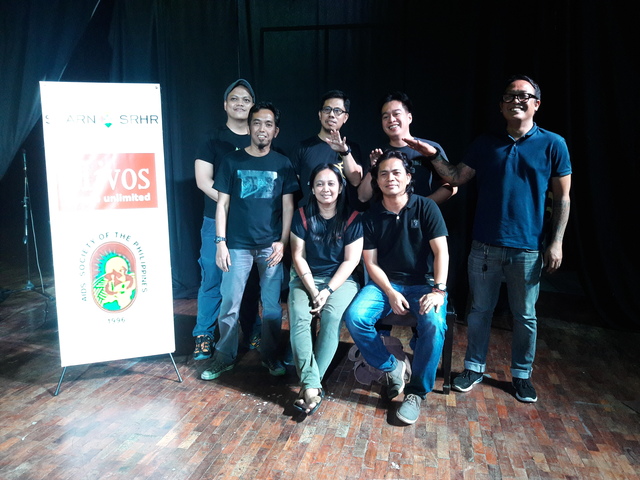 Professor Bely Ygot, who teaches theater and is the director of the PUP University Center for Culture and the Arts, said the painting session will be the first in the "Faces" series to raise consciousness among persons in the arts about HIV infection and AIDS.
"This is a creative way of raising the awareness of young people who look at and appreciate the artwork while maintaining the anonymity of the person living with HIV," he said. Ygot is also a member of the board of trustees of the AIDS Society of the Philippines.
Apart from Boyet de Mesa and Rica Reyes-dela Cruz, the other participating artists were Benhur Bobis, Michael Beltran, Jofre Nachor, Michael Carranceja and Randy Valiente. Originally a PUP-based visual arts organization, Panday Pira evolved into a multi-disciplinary group involving music, performing arts, literature and experimental collaborative art, with their members also engaged in television, design, production and advertising.
Their group is known for their avant-garde protest art and efforts at social realism, and this was evident in their illustrations of Janina in acrylic, crayon, watercolor and other mediums.
Ygot said, "What they know now about a person living with HIV is in their individual minds and hearts, but seeing their paintings, they have wonderful interpretations of it."